LIVE KNOTWEED JOBS IN swansea
SUCCESSFUL KNOTWEED REMOVAL PROJECTS IN swansea
SUCCESSFUL PROPERTY SALES AFTER TREATMENT
wales BASED KNOTWEED SURVEYOR
JAPANESE KNOTWEED REMOVAL SWANSEA
All of our Japanese Knotweed projects in Wales are undertaken by our Wales 'born and bred' technicians. We truly are your local Japanese Knotweed Company.
Is Japanese knotweed invading your home? Your commercial property in or around Swansea? Has the value of your property dropped? All because of this giant, highly invasive weed? If you need professional a cost effective Japanese knotweed removal Swansea service, look no further. Knotweed Services UK offer the most cost effective and professional Japanese knotweed removal Swansea service around. All backed up by our expansive warranty.
From the mid 1980s to now, Japanese knotweed has spread rapidly. Reasons for this are discussed below.
Japanese knotweed is highly invasive. It's a giant weed that can grow up to 10 cm per day. It is the most invasive plant in the UK.
Statistics show that Japanese knotweed is prevalent in the Swansea area.
Knotweed has the ability to grow and spread quickly. Even tiny amounts of a knotweed stem is capable of producing a new plant and spreading. Cross contamination is easy and very, very common.
Japanese knotweed is perennial. It thrives on disturbance. The tiniest piece can re-grow and spread. It has been spread by both natural means and human activity. It soon overruns riverbanks, railway embankments, road verges, gardens and buildings and their foundations.
It lives for a very long time. It is extremely dangerous to buildings and foundations. Very capable of causing serious damage to homes, businesses and any building it comes into contact with.
It flourishes on any form of soil. It doesn't how poor or infertile. However, all of these nightmares can be avoided if swift action is taken. This is where our excellent Japanese knotweed removal Swansea services come in!
It's so wide spread that mortgage providers are aware of the threat. This means that Japanese knotweed can affect either the purchase or sale of a house. Potentially knocking thousands off the asking price!
Experts have estimated it costs the United Kingdom £166 million annually. It is even estimated that in the UK, there is at least 1 infestation in every 10km squared.
The requirement of a Japanese knotweed removal Swansea service has never been greater.

You are not legally obliged to remove Japanese knotweed. However, if you are a land or home owner it is an offence to let it to spread to neighbouring properties or land.
It may cost you more in legal fees if you choose not to use our Japanese knotweed removal Swansea service.
PROBLEMS CAUSED BY KNOTWEED.
It can and will cause structural damage to buildings. It WILL grow through tarmac and concrete.
Banks WILL refuse to give mortgages out or loan against infected buildings.
A plant the size of a 5 pence piece can and will grow into a HUGE plant.
If you tread on Japanese knotweed and then carry a piece from one location to another it will grow into a new plant. No matter how poor or infertile the land is.
Japanese Knotweed was responsible for costing the government £70 million! this is because it was present on the UK Olympic development site! Read more here.
The UK government estimates that it may cost £2 billion to eradicate the weed entirely!
Obstructs both visibility and access to paths, roads and other infrastructure. Causing a massive headache for commercial properties in particular.
If left untreated – it can become extremely expensive to treat. The sooner you use our Japanese knotweed removal Swansea service, the cheaper it will be!
DO I NEED YOUR JAPANESE KNOTWEED REMOVAL SWANSEA SERVICE?
Is it lush green in colour?
Are the leaves heart shaped?
Is the stem bamboo like in appearance?
Does the plant or weed produce white flowers around September or October?
If it grows rapidly – it can grow by 10cm per day!
The stem can reach three metres high. It can move up to seven metres away from the plant!
In early spring, shoots of a reddish purple colour can appear from the ground and grow rapidly causing canes.
The plants are fully grown by early summer. Mature canes are hollow with a distinctive purple speckle.
For a more in depth guide on how to identify Japanese knotweed – please have a look at our page here.
HOW MUCH WILL IT COST ME?
Japanese Knotweed removal is a difficult and specialist process. It takes a highly skilled team to perform the removal. As explained previously, even the tiniest piece of knotweed left in the ground (or even transported from one area to another via machinery or shoes) can spread rapidly into a new plant. No matter how poor or infertile the soil and ground may be.
Japanese knotweed is rarely affected or controlled when using retail weed killers from the high street. For successful Japanese knotweed removal Swansea, the following has to happen.
professional identification.
Surveying.
Chemical spraying and treatment.
Legislation that is enforced and must be adhered to regarding the disposal of contaminated waste.

We cannot stress enough just how easily knotweed can be spread from the smallest of amounts.
That's where www.knotweedservices.co.uk come in. There are different ways of treating and removing knotweed. Our Japanese knotweed removal Swansea services are second to none.
We cover the whole of the UK. We can offer you the quickest, most cost effective Japanese knotweed removal Swansea service available. All of our services are backed up by a multi year warranty. Ensuring once your Japanese knotweed is removed – it will not come back.
We are professional and effective in our approach. The cost of not using our Japanese knotweed removal Swansea services could cost you. It may cost you far more than hiring us to deal with your knotweed problem.
Japanese knotweed services UK LTD are experts when it comes to removal. Our staff are highly trained. We use innovative solutions and are constantly carrying out up to date research.
JAPANESE KNOTWEED REMOVAL WARRANTY.
Any recurrence of Knotweed within the area. will be covered by our warranty document. This allows for any removal works to be carried out at no additional cost to the client.
Warranty includes the following.
Quarterly inspection during the first twelve months after completion.
An annual site visit and report.
This level of warranty follows in-depth research by our insurers as to our methods and our results to date.

If require a Japanese knotweed removal service, look no further. Call us today on: 0800 689 4146.
Are your pictures on a different device? Don't have pictures available at the moment? No problem! Sending pictures to us is EASY at ANYTIME. You can contact us via the following:
JAPANESE KNOTWEED REMOVAL – WITHOUT THE DRAMA
Knotweed Services (UK) Ltd offer our clients professional services and options, which are bespoke to individual client's specifications and requirements.
FROM THE POINT OF INITIAL CONTACT, KNOTWEED SERVICES WILL GUIDE YOU THROUGH THE PROCESS.
As Infestations vary considerably from property to property it is therefore not surprising that the application technique will too. It may be necessary to use only one method of treatment or the combination of different methods.
As this is nature we are dealing with, our Japanese Knotweed specialists are trained to factor in all considerations in order to achieve optimal results. Decisions with regards to the methods of treatment opted for, will ultimately be decided by the ongoing assessment of site-specific infestations and the influencing factors/variables.
Therefore, the application procedure, giving the maximum efficacy with minimum waste and environmental impact will be tailored to specific sites.
As PCA approved Japanese Knotweed specialists, we are also guided by the latest research and development which gives guidance to the optimal time for treatment.
The latest research from Swansea University, released April 2018 by Dr. Dan Jones & Professor Dan Eastwood found that:
Following the release of this research, Knotweed Services (UK) Ltd now operate using the 4-stage model which identifies the optimal time for treatment.
japanese knotweed electrical removal
Zapping knotweed with zero chemicals
BRAND NEW FOR 2021! WE ARE NOW USING ELECTRICITY TO KILL WEEDS WITHOUT THE USE OF HARMFUL CHEMICAL HERBICIDES
Knotweed Services are once again pioneering breakthrough technology in the Japanese Knotweed Removal Sector. Now providing the most economical, eco-friendly and sustainable solution to removing Japanese Knotweed once and for all with a 100% non-chemical approach. We are the first Japanese Knotweed company to bring this to market.
Using electricity to kill Japanese Knotweed requires no chemicals, no water and it's powered by renewable energy.
Our system is quicker and comparable to the cost of using herbicides without waiting for years.
No-till technology to create healthy soils and capture carbon.
FOLIAR SPRAYING *
Most common treatment. The spraying of powerful chemicals with a knapsack. We ensure that other plants aren't damaged. The most effective time for foliar spraying to Japanese Knotweed is in Spring
FOLIAR LEAF WIPING *
With this Japanese knotweed treatment we employ a device to 'physically wipe' our chemicals onto the Japanese Knotweed leaves. This application is so precise that we can often use a higher concentration of chemical.
STEM INJECTION
We apply a controlled amount of herbicide directly into the invasive weed. Due to being injected directly into the Japanese Knotweed, this is the most crafty method of removal. It isn't dependent on the weather.
BIOMASS REDUCTION
Biomass is a form of excavation and removal but instead of extracting all of the soil impacted by Japanese Knotweed, we only remove the infested parts of the soil. It's an excellent Japanese Knotweed control method that allows the reuse of the soil. Reducing the use of landfill.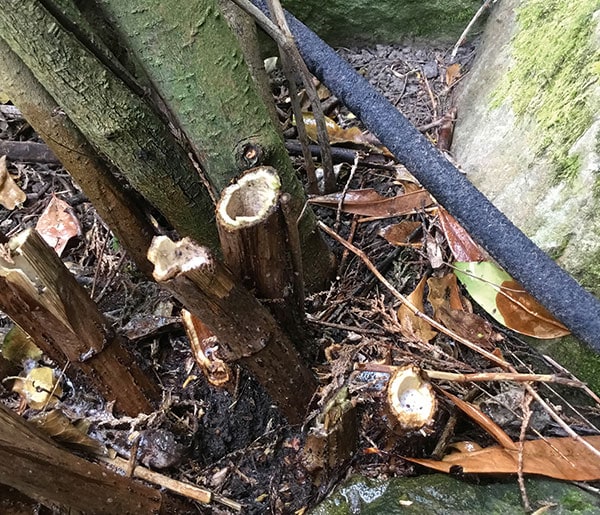 CROWN REMOVAL
Crown and stems are capable of regenerating and even small fragments of cut crown or stem are capable of regenerating and becoming a new invasive weed – removing these from the equation is a great strategy.
If you are looking to develop or build on land that has Japanese Knotweed, the option of a 5 year (herbicide) management plan is not viable. This is often down to the time constraints from planners, construction workers, resource availability & financing schedules.
In cases of development, it is also advised by the Environment Agency, that for complete eradication, the entire rhizome of the Japanese Knotweed should be removed from the soil; and this is especially so when the ground is likely to be disturbed in the construction, building of & extension of homes/industrial & commercial units & the landscaping of grounds.
Knotweed Services (UK) Ltd offer our clients professional services and options, which are bespoke to individual client's specifications and requirements. Our friendly and helpful staff are here to talk to, offering free advice & guidance.
From the point of initial contact, Knotweed Services (UK) Ltd will guide you through the process, identifying the current use of the site, future plans for development, the time-scales and schedules in place,
identify if planning applications have been submitted or approved (where planning has been approved we will ask you to provide copies to Knotweed Services (UK) Ltd, to aid us in deciding upon the best Japanese Knotweed removal approach) & advise the most cost effective solutions available; specific to the clients project requirements.
Pictures, measurements and details specific to the site/project will be recorded – i.e. Access points for plant machinery, routes identified for disposal vehicles, potential bund areas identified & a Risk Assessment of the site and potential hazards recorded. Factors such as nearby water courses, neighbouring properties & planning for the site will also contribute to the surveyor's final conclusions when selecting the most cost effective and appropriate management plan for the site/project.
The findings of the site survey, a schedule of works proposal and a quotation are then presented to the client in a report for the client's consideration.
Knotweed Services (UK) Ltd will provide both the machinery and skilled staff for all of our projects. Our technicians and operatives are all trained and directly employed in-house. We will control and oversee all works directly and ensure that all legislation is strictly adhered to and that no cross contamination occurs. Alternatively, if you provide your own plant we can oversee the works for you.
NO TWO JOBS ARE EVER THE SAME.
In reality most eradication programs are a combination of treatments.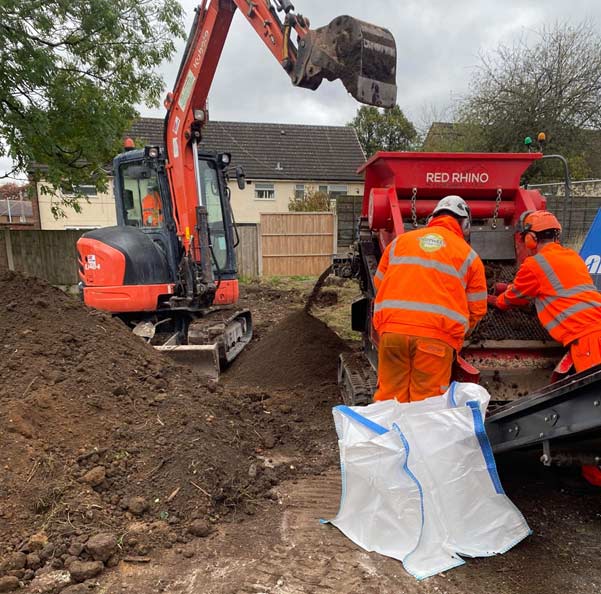 SOIL SCREENING
A tried and tested methodology used on hundreds of sites across the UK.

Using the screening method, the Japanese knotweed rhizome material is separated from the soil material. The Japanese knotweed material is then either transported to licensed landfill at a much lower disposal rate or incinerated on site using a D6 exemption from the Environment Agency or Natural Resources Wales.

The cleaned soils can then be reused in locations away from any construction, normally in soft landscaping areas.

This can reduce the landfill & backfill requirement costs significantly and can also help to reduce the carbon footprint on site due to reduced vehicle movements to landfill.
BIOSECURITY SUPERVISION
Knotweed Services can provide a biosecurity operative to supervise any excavations and movement of soils containing Japanese knotweed on site. 
As part of these measures, we can provide a biosecurity boot wash and machine-washing area installed in an area at the entrance to the site.
We will provide all toolbox talks for the main contractor on site, which will be signed by all contractors involved in the operation on site.
We can provide temporary geotextile barriers if required in areas to maintain the biosecurity on site.
Once the works have been completed, we will provide the client with a full biosecurity report.
This method can be used in conjunction with other treatment methods on site.
EXCAVATION AND DISPOSAL
This treatment method is ideal where time constraints are present and there's no other option other than to remove both the Japanese Knotweed and contaminated soil to a registered landfill.
By removing all traces of the infestation quickly, this offers a rapid solution to your problem and allows your commercial project to begin groundwork's almost straight away. When time is of the essence, there is no quicker Japanese Knotweed removal/treatment method.
Any waste taken off-site will be done so with a licensed waste carrier to a suitably authorised landfill site.
CELL BURIAL
Cell burial comprises of moving Knotweed contaminated soil from one location on site, burying it in an excavated pit which is lined with a root barrier membrane, in a different position on the site.
The burial requirements for Japanese Knotweed are as follows:
The Environment Agency recommends that the top of the burial cell should be a minimum of 2 metres below ground level.
The overall depth of the burial pit should be in excess of 5 metres deep. All root barrier seams are welded together forming an encapsulated cell from which the Japanese Knotweed cannot escape. Clean soil is then used to backfill on top of the cell.
To prevent accidental disturbance of the burial site, it is recorded on all site plans and future land owners should be made aware of the location.
STOCKPILE & TREAT 
Bunding is the method of relocating contaminated Japanese Knotweed soil to a different area of the site being treated. A bund is a shallow area of the contaminated soil, typically 0.5m deep.
The bund can either be raised, on top of the ground, or placed within an excavation to make the surface flush with the surrounding area.
The purpose of the bund is to move the Japanese Knotweed to an area of the site that is not used. This 'buys time' for treatment that would not be possible where the Japanese Knotweed was originally located.
HERBICIDE APPLICATION
At Knotweed Services we can provide the client with bespoke treatment plans depending on the locations of the Japanese knotweed. 
These plans can work in conjunction with other methods of treatment where access is limited to pedestrian movements i.e., embankments or existing pathways within a site.
This will normally consist of up to 3 visits per annum to apply herbicide by either foliar spray technique or stem injection during the growing season over a period of 3 years, with a monitoring period of 2 years thereafter.
We would select the appropriate herbicides depending on the surrounding foliage or environmental constraints.
After each visit a full treatment record would be provided with photos showing the progress of the works and then an annual report.