LIVE KNOTWEED JOBS IN Port Talbot
SUCCESSFUL KNOTWEED REMOVAL PROJECTS IN Port Talbot
SUCCESSFUL PROPERTY SALES AFTER TREATMENT
WALES BASED KNOTWEED SURVEYORS
Japanese Knotweed Removal Port Talbot
Knotweed services is a highly professional company with years of experience which specialise in Japanese knotweed removal, control, and treatment for properties located in or around Port Talbot.
Knotweed Services is a member of the PCA, a government-approved trade body for "the damp, waterproofing, wood preservation and invasive weeds industries". We deliver the best treatment and control methods for Japanese knotweed removal.
Our company has removed a number of invasive knotweed plants from large-scale projects in and around Port Talbot and Wales. For invasive knotweed removal to be successful, experienced identification, surveying, treatment, and monitoring must take place. We can help.
What is Japanese Knotweed? All you wanted to know about that plant growing in your garden
Japenese Knotweed has many negative impacts on the properties it infests. Mortgage lenders are usually unwilling to lend against homes that have an infestation. This impacts both buyers and re-mortgagees because these lenders will not lend against the property.
Knotweed Services offers a variety of services for commercial land and property owners that deal with the removal and eradication of Japanese knotweed. 
How Does Japanese Knotweed Spread
Knotweed can grow through tarmac and concrete, threatening the structural integrity of buildings.
Mortgage lenders are concerned about the presence of Japanese Knotweed in buildings they are considering investing in.
Knotweed makes it difficult to get around—both for people and vehicles. It obstructs visibility and access to infrastructure, including highways and paths. 
Knotweed Services is a first-rate provider of Japanese knotweed removal in Port Talbot and the surrounding region. We guarantee that we will entirely eliminate the weed from your property, and also offer a warranty against its return and another invasion of the plant.
Are your pictures on a different device? Don't have pictures available at the moment? No problem! Sending pictures to us is EASY at ANYTIME. You can contact us via the following:
Call us now to begin the treatment and management of your infestation in Port Talbot
Call us on: 0121 725 6348 or 0800 689 4146 for an swift quote
Knotweed Services is here to help you.
RESIDENTIAL JAPANESE KNOTWEED REMOVAL Port Talbot.
WHAT YOU NEED TO KNOW ABOUT JAPANESE KNOTWEED REMOVAL Port Talbot
As Japanese Knotweed infestations vary considerably from property to property, the methods used for its removal will differ, too.
Japanese knotweed removal is a complex, fact-based process. Our specialists have the training and experience to factor in all facts in order to achieve optimal results and removal. An insurance-backed guarantee is available.
— JAPANESE KNOTWEED REMOVAL OPTIONS AVAILABLE IN Port Talbot
japanese knotweed electrical removal
Zapping knotweed with zero chemicals
BRAND NEW FOR 2021! WE ARE NOW USING ELECTRICITY TO KILL WEEDS WITHOUT THE USE OF HARMFUL CHEMICAL HERBICIDES
Knotweed Services are once again pioneering breakthrough technology in the Japanese Knotweed Removal Sector. Now providing the most economical, eco-friendly and sustainable solution to removing Japanese Knotweed once and for all with a 100% non-chemical approach. We are the first Japanese Knotweed company to bring this to market.
Using electricity to kill Japanese Knotweed requires no chemicals, no water and it's powered by renewable energy.
Our system is quicker and comparable to the cost of using herbicides without waiting for years.
No-till technology to create healthy soils and capture carbon.
FOLIAR SPRAYING *
Most common treatment. The spraying of powerful chemicals with a knapsack. We ensure that other plants aren't damaged. The most effective time for foliar spraying to Japanese Knotweed is in Spring
FOLIAR LEAF WIPING *
With this Japanese knotweed treatment we employ a device to 'physically wipe' our chemicals onto the Japanese Knotweed leaves. This application is so precise that we can often use a higher concentration of chemical.
STEM INJECTION
We apply a controlled amount of herbicide directly into the invasive weed. Due to being injected directly into the Japanese Knotweed, this is the most crafty method of removal. It isn't dependent on the weather.
BIOMASS REDUCTION
Biomass is a form of excavation and removal but instead of extracting all of the soil impacted by Japanese Knotweed, we only remove the infested parts of the soil. It's an excellent Japanese Knotweed control method that allows the reuse of the soil. Reducing the use of landfill.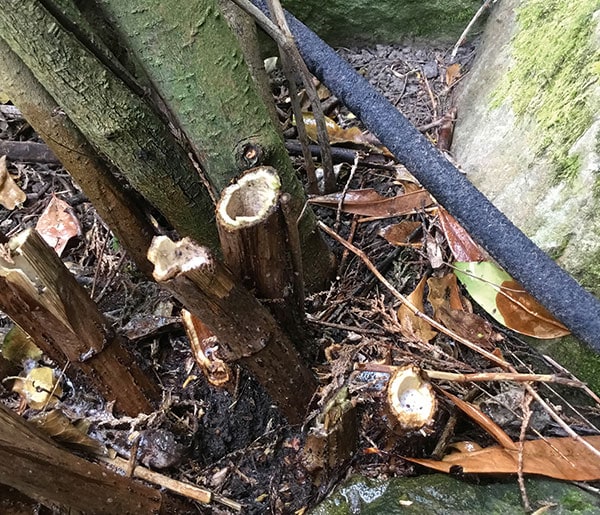 CROWN REMOVAL
Crown and stems are capable of regenerating and even small fragments of cut crown or stem are capable of regenerating and becoming a new invasive weed – removing these from the equation is a great strategy.
— TREATMENT OPTIONS AVAILABLE IN Port Talbot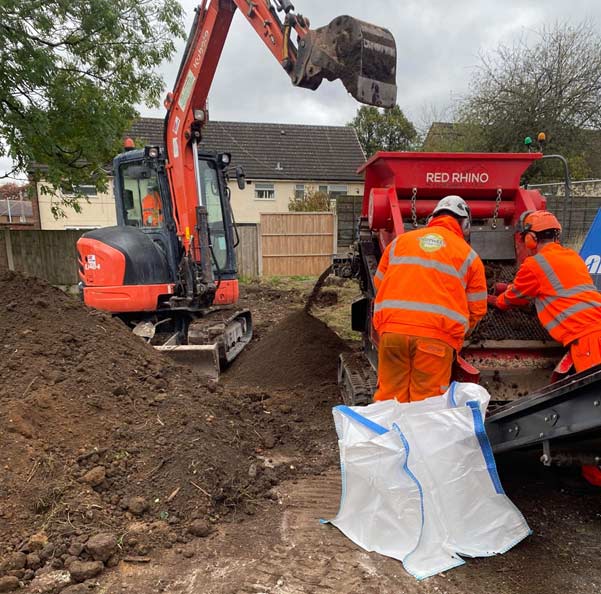 SOIL SCREENING
A tried and tested methodology used on hundreds of sites across the UK.

Using the screening method, the Japanese knotweed rhizome material is separated from the soil material. The Japanese knotweed material is then either transported to licensed landfill at a much lower disposal rate or incinerated on site using a D6 exemption from the Environment Agency or Natural Resources Wales.

The cleaned soils can then be reused in locations away from any construction, normally in soft landscaping areas.

This can reduce the landfill & backfill requirement costs significantly and can also help to reduce the carbon footprint on site due to reduced vehicle movements to landfill.
BIOSECURITY SUPERVISION
Knotweed Services can provide a biosecurity operative to supervise any excavations and movement of soils containing Japanese knotweed on site. 
As part of these measures, we can provide a biosecurity boot wash and machine-washing area installed in an area at the entrance to the site.
We will provide all toolbox talks for the main contractor on site, which will be signed by all contractors involved in the operation on site.
We can provide temporary geotextile barriers if required in areas to maintain the biosecurity on site.
Once the works have been completed, we will provide the client with a full biosecurity report.
This method can be used in conjunction with other treatment methods on site.
EXCAVATION AND DISPOSAL
This treatment method is ideal where time constraints are present and there's no other option other than to remove both the Japanese Knotweed and contaminated soil to a registered landfill.
By removing all traces of the infestation quickly, this offers a rapid solution to your problem and allows your commercial project to begin groundwork's almost straight away. When time is of the essence, there is no quicker Japanese Knotweed removal/treatment method.
Any waste taken off-site will be done so with a licensed waste carrier to a suitably authorised landfill site.
CELL BURIAL
Cell burial comprises of moving Knotweed contaminated soil from one location on site, burying it in an excavated pit which is lined with a root barrier membrane, in a different position on the site.
The burial requirements for Japanese Knotweed are as follows:
The Environment Agency recommends that the top of the burial cell should be a minimum of 2 metres below ground level.
The overall depth of the burial pit should be in excess of 5 metres deep. All root barrier seams are welded together forming an encapsulated cell from which the Japanese Knotweed cannot escape. Clean soil is then used to backfill on top of the cell.
To prevent accidental disturbance of the burial site, it is recorded on all site plans and future land owners should be made aware of the location.
STOCKPILE & TREAT 
Bunding is the method of relocating contaminated Japanese Knotweed soil to a different area of the site being treated. A bund is a shallow area of the contaminated soil, typically 0.5m deep.
The bund can either be raised, on top of the ground, or placed within an excavation to make the surface flush with the surrounding area.
The purpose of the bund is to move the Japanese Knotweed to an area of the site that is not used. This 'buys time' for treatment that would not be possible where the Japanese Knotweed was originally located.
HERBICIDE APPLICATION
At Knotweed Services we can provide the client with bespoke treatment plans depending on the locations of the Japanese knotweed. 
These plans can work in conjunction with other methods of treatment where access is limited to pedestrian movements i.e., embankments or existing pathways within a site.
This will normally consist of up to 3 visits per annum to apply herbicide by either foliar spray technique or stem injection during the growing season over a period of 3 years, with a monitoring period of 2 years thereafter.
We would select the appropriate herbicides depending on the surrounding foliage or environmental constraints.
After each visit a full treatment record would be provided with photos showing the progress of the works and then an annual report.
Services available throughout the Wales: