JAPANESE KNOTWEED REMOVAL



JAPANESE KNOTWEED REMOVAL
WHAT IS JAPANESE KNOTWEED?
Japanese Knotweed is a tall growing plant from the dock family. The plant has bamboo-like stems and in full growth has small white flowers.
Japanese Knotweed grows at a rapid rate and before you know it, it will have taken over your entire garden.
At first, the plant was grown as an ornamental plant before it became a nuisance to the community and became an exotic weed. Due to its fast growth and vast and complex rhizomes (root system) treatment and control of this invasive weed is difficult.
The plant has taken over many British gardens leading to several homes being devalued because of its presence.
DO I NEED YOUR JAPANESE KNOTWEED REMOVAL SERVICES?
Japanese Knotweed can grow through hard standing material such as concrete and tarmac with its roots going as deep as 3m deep. It can grow without any interruption and prevent other plants from getting light.
While the plant is aggressive, it cannot shatter through concrete on its own. It needs to find a fracture on the surface which provides access to water and light to aid its growth. It builds pressure on the objects where it grows hence compromising the rigidity of the structure.
Its presence can also be felt in poorly laid blocks, driveways, patios, underground sewage pipes, veins, cavity wall spaces, drains, air bricks, vents and fences among others. Its presence can potentially result in issues such as subsidence, cracks and burst water pipes.
Our Japanese Knotweed Removal services are PCA accredited. With almost a decade of experience helping both land and homeowners across the country, we are able to guarantee that we can control and eradicate your Japanese Knotweed infestation.
JAPANESE KNOTWEED REMOVAL – WITHOUT THE DRAMA
Call us on: 0121 725 6348 or 0800 689 4146 today!
HOW IT GOT INTO THE COUNTRY
"Japanese Knotweed is a fast-growing and strong clump-forming perennial, with tall, dense annual stems. Stem growth is renewed each year from the stout, deeply-penetrating rhizomes (creeping underground stems)."
Royal Horticultural Society, 2018
| | |
| --- | --- |
| Scientific Name: | Fallopia Japonica |
| Native to: | Japan, Taiwan, Northern China |
| Habitat: | Common in urban areas, waste land, railways, road side, river banks |
The plant, which is also known as Fallopia Japonica, was bought over from Japan to Europe in mid-19C by a Phillipp von Siebold, a botanist who got it from the sides of volcanos.
Attracted by the beauty of the plant, most people embraced it as an ornamental plant. In 1847, the Society of Agriculture and Horticulture from Holland named it the "most interesting new ornament of the year."
Under the guise of an ornament, the plant was largely sold in botanic gardens which spread it further to other gardens, often bought from nurseries.
The plant spread further through planting and before long, the perception towards the plant changed and people began seeing it as a nuisance.
It escaped to the wild when people cut and disposed of the unwanted plant. Ultimately, this was the pattern of distribution. Its spread was also accelerated via water courses and through soil movement from construction and road building.
In the 1930's the presence of the plant was so wide spread that it began to affect the value of homes. Unfortunately for home owners, the presence of Japanese knotweed in your garden will still affect the value of your home.
Find out how to get a mortgage when your home has Japanese Knotweed by clicking here.
HOW TO RECGONISE JAPANESE KNOTWEED
Recognising Japanese Knotweed is not always easy as it bears some resemblance to other plants like lilac, dogwood, Himalayan balsam, ornamental bistorts, etc. If you're not sure, you should call an expert to help identify it.
The best time to identify Japanese Knotweed is between mid-summer and early autumn. It starts to grow from early spring where you can notice reddish/purple shoots appearing from the ground. It can grow for up to 10cm a day hence forming dense bamboo-like stems that form shield-shaped leaves.
By early summer, the knotweed's hollow stems mature with a purple speckled appearance, reaching up to a height of approx. 3 metres. The leaves alternate along each side of the stem forming a zigzag pattern. The flowers emerge in late summer several metres outwards from the visible stems.
CALL US NOW TO BEGIN THE TREATMENT AND CONTROL OF YOUR INFESTATION
Call us on: 0121 725 6348 or 0800 689 4146 for an on the spot estimate
CAN'T I DIY REMOVE IT?
If a property has Japanese Knotweed, when selling the property it must be declared to potential buyers. Not declaring it could result in a misrepresentation claim in the courts if Japanese Knotweed is discovered following the completion of the sale.
The declaration is provided to mortgage lenders, thus a management plan for the Japanese Knotweed is required to be implemented by a Japanese Knotweed specialist so treating the Japanese Knotweed yourself really isn't an option.
Choosing Japanese Knotweed specialists to do the work for you is also more effective as they have the best extraction techniques, reduce the risk of spread and also have access to powerful glyphosate chemicals to help control the knotweed completely.

Visit our Domestic Japanese Knotweed Removal page to find out more about the Japanese Knotweed Removal services we provide to home owners and buyers or visit our Commercial Japanese Knotweed Removal page, to find out the services that we provide to the commercial sector.
WHAT TO DO WHEN YOU SUSPECT YOU HAVE JAPANESE KNOTWEED
Seek professional advice! Contact Knotweed Services – a PCA accredited specialist company! Simply fill in the form on this page to start the process.
If you are in the process of buying/selling your property and knotweed is found, seek professional advice. The report outlining whether there is Japanese knotweed present will be required by the mortgage lenders- even if the suspected plant is not Japanese Knotweed.
Unfortunately banks will refuse mortgages and loans against a property with Japanese Knotweed, preventing property sales. Unless a PCA approved company has been instructed to conduct a management plan.
Lenders need to know that a reputable specialist company has been instructed in order to protect their investment.
Knotweed Services (UK) Ltd are here to offer endless advice and guidance! If you think you may have Japanese Knotweed, simply upload your pictures of suspected Japanese Knotweed to us and we will confirm if it is Japanese Knotweed.
Our free identification service is quick, easy and completely free. Use any of the of the options: Text, WhatsApp, Facebook, Twitter, Instagram and Video to send us your images and we will confirm as soon as possible.
OUR ACCREDITATIONS
HOW LONG DOES REMOVAL TAKE?
The duration of time for removal of Japanese Knotweed from your garden depends on several factors including, the site, how dense the plant is, the environmental impacts of the removal method and of course the method of control adopted.
Japanese Knotweed specialists will fast assess your land and take all the factors into consideration before advising on the best method to use, how much it will cost, how effective treatment is likely to be and how much time it will take. A management plan for each individual property is created taking all variables into consideration.
Excavation of the weed can take a few weeks on average depending on the spread. The chemical treatment will take about 2 to 3 years before you can see the results. The chemical way may seem lengthy, but this is a cheaper option to excavation.
Knotweed Services (UK) Ltd offer our clients professional services and options, which are bespoke to individual client's specifications and requirements.
FROM THE
POINT OF
INITIAL CONTACT,
KNOTWEED
SERVICES WILL
GUIDE YOU
THROUGH
THE PROCESS.

As Infestations vary considerably from property to property it is therefore not surprising that the application technique will too. It may be necessary to use only one method of treatment or the combination of different methods.
As this is nature we are dealing with, our Japanese Knotweed specialists are trained to factor in all considerations in order to achieve optimal results. Decisions with regards to the methods of treatment opted for, will ultimately be decided by the ongoing assessment of site-specific infestations and the influencing factors/variables.
Therefore, the application procedure, giving the maximum efficacy with minimum waste and environmental impact will be tailored to specific sites.
As PCA approved Japanese Knotweed specialists, we are also guided by the latest research and development which gives guidance to the optimal time for treatment.
The latest research from Swansea University, released April 2018 by Dr. Dan Jones & Professor Dan Eastwood found that:
Applying the wrong herbicides at the wrong time of the year, leads to greater herbicide use and environmental impacts. The 4-Stage Model that we have developed links herbicide selection and application with the seasonal surface-rhizome flows in the Knotweed plant. This seasonal targeting of Knotweed delivers better results and uses lower doses of herbicide across the whole treatment life-cycle. For the public and land managers, this means more affordable treatment that is also more environmentally friendly than traditional, blanket herbicide application."

(Dr. Dan Jones – Swansea University).
Following the release of this research, Knotweed Services (UK) Ltd now operate using the 4-stage model which identifies the optimal time for treatment.
FOLIAR SPRAYING *
The most common herbicide application is to spray the foliage. We use powerful chemicals with the use of a knapsack. Chemicals are sprayed away from other plants to ensure that other plants aren't damaged. The most effective time to apply foliar spraying to Japanese Knotweed is in Spring.
This is much more damaging to the underground rhizome system than applying herbicides in any other season. A qualified person should carry out any treatment that involves the use of chemicals due to their powerful and harmful nature. All of our technicians are PCA and NPTC qualified.
FOLIAR LEAF WIPING *
With this treatment we employ a device to 'physically wipe' our chemicals onto the Japanese Knotweed leaves directly. This means our application is precise and that we can often use a higher concentration of chemical.
Wiping has advantages over spraying – the chemicals are being absorbed directly by the Knotweed and there's less wastage and drip. It's also a better solution if the infestation is very near desirable plants and foliage (no matter how careful we are, droplets in sprays can drift).
STEM INJECTION
We apply a controlled amount of herbicide directly into the Japanese Knotweed plant. Due to being injected directly into the plant, this is the most crafty method of removal. Unlike other spraying methods (more traditional) it is not dependant or compromised by weather conditions.
With traditional spraying methods, the environment has to be taken into account because rain or wind could cause the chemicals to spread to other species and have the potential to be harmful. Due to the nature of the stem injection procedure it is considered more environmentally friendly than other methods.
BIOMASS REDUCTION
Biomass is a form of excavation and removal but instead of extracting all of the soil impacted by Japanese Knotweed, we only remove the infested parts of the soil.
It is an effective, productive and maintainable Japanese Knotweed control method that allows the reuse of the previously infested soil. Reducing the use of landfill.
This method is most effective when used in conjunction with other control methods. For a domestic property, layers of soil will be scraped back and rhizome will be removed as it is unearthed.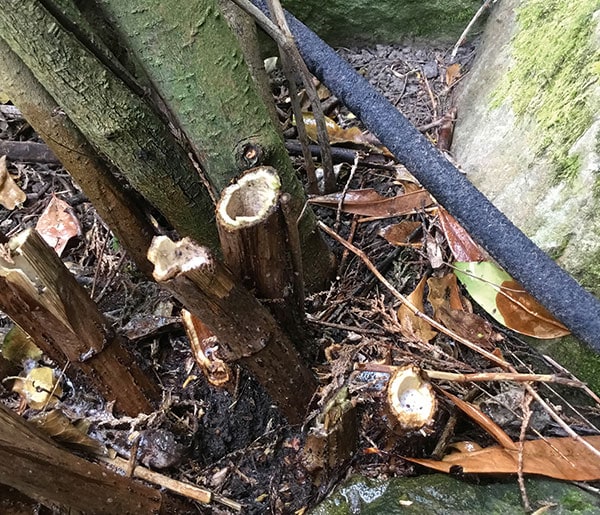 CROWN REMOVAL
Crown and stems are capable of regenerating and even small fragments of cut crown or stem are capable of regenerating and becoming a new plant
– removing these from the equation is a great strategy.
New plants will grow from the nodes of pieces of green stem, in soil or water. Mechanical cutters, will spread Knotweed in this fashion. If stems are dried until they are dark brown, they will not regrow unless the crown (base of the stem) is still attached.
With the crowns removed – our herbicide and stem injection treatments are much more effective.
If you are looking to develop or build on land that has Japanese Knotweed, the option of a 5 year (herbicide) management plan is not viable. This is often down to the time constraints from planners, construction workers, resource availability & financing schedules.
In cases of development, it is also advised by the Environment Agency, that for complete eradication, the entire rhizome of the Japanese Knotweed should be removed from the soil; and this is especially so when the ground is likely to be disturbed in the construction, building of & extension of homes/industrial & commercial units & the landscaping of grounds.
Knotweed Services (UK) Ltd offer our clients professional services and options, which are bespoke to individual client's specifications and requirements. Our friendly and helpful staff are here to talk to, offering free advice & guidance.
From the point of initial contact, Knotweed Services (UK) Ltd will guide you through the process, identifying the current use of the site, future plans for development, the time-scales and schedules in place,
identify if planning applications have been submitted or approved (where planning has been approved we will ask you to provide copies to Knotweed Services (UK) Ltd, to aid us in deciding upon the best Japanese Knotweed removal approach) & advise the most cost effective solutions available; specific to the clients project requirements.
Pictures, measurements and details specific to the site/project will be recorded – i.e. Access points for plant machinery, routes identified for disposal vehicles, potential bund areas identified & a Risk Assessment of the site and potential hazards recorded. Factors such as nearby water courses, neighbouring properties & planning for the site will also contribute to the surveyor's final conclusions when selecting the most cost effective and appropriate management plan for the site/project.
The findings of the site survey, a schedule of works proposal and a quotation are then presented to the client in a report for the client's consideration.
Knotweed Services (UK) Ltd will provide both the machinery and skilled staff for all of our projects. Our technicians and operatives are all trained and directly employed in-house. We will control and oversee all works directly and ensure that all legislation is strictly adhered to and that no cross contamination occurs. Alternatively, if you provide your own plant we can oversee the works for you.
NO TWO JOBS ARE EVER THE SAME.
In reality most eradication programs are a combination of treatments.
EXCAVATION AND DISPOSAL
This treatment method is ideal where time constraints are present and there's no other option other than to remove both the Japanese Knotweed and contaminated soil to a registered landfill.
By removing all traces of the infestation quickly, this offers a rapid solution to your problem and allows your commercial project to begin groundwork's almost straight away. When time is of the essence, there is no quicker Japanese Knotweed removal/treatment method.
Any waste taken off-site will be done so with a licensed waste carrier to a suitably authorised landfill site.
CELL BURIAL
Cell burial comprises of moving Knotweed contaminated soil from one location on site, burying it in an excavated pit which is lined with a root barrier membrane, in a different position on the site.
The burial requirements for Japanese Knotweed are as follows:
The Environment Agency recommends that the top of the burial cell should be a minimum of 2 metres below ground level.
The overall depth of the burial pit should be in excess of 5 metres deep. All root barrier seams are welded together forming an encapsulated cell from which the Japanese Knotweed cannot escape. Clean soil is then used to backfill on top of the cell.
To prevent accidental disturbance of the burial site, it is recorded on all site plans and future land owners should be made aware of the location.
BUNDING
Bunding is the method of relocating contaminated Japanese Knotweed soil to a different area of the site being treated. A bund is a shallow area of the contaminated soil, typically 0.5m deep.
The bund can either be raised, on top of the ground, or placed within an excavation to make the surface flush with the surrounding area.
The purpose of the bund is to move the Japanese Knotweed to an area of the site that is not used. This 'buys time' for treatment that would not be possible where the Japanese Knotweed was originally located.
DON'T TAKE OUR WORD FOR IT, READ WHAT OUR CUSTOMERS SAY
CALL US NOW FOR AN INSTANT ESTIMATE
Call us on: 0121 725 6348 or 0800 689 4146